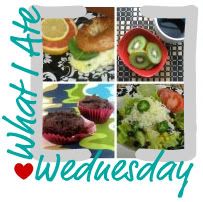 Mediterranean Crunch Salad
A quick and easy salad featuring the bold flavors of the Mediterranean.
Ingredients
1 (15-ounce) can no salt-added garbanzo beans
1 cucumber, chopped
1 cup small broccoli florets
1 cup grape tomatoes, halved
1 cup finely sliced kale, tough stems removed
1/2 cup finely chopped red onion
2 tablespoons finely chopped Kalamata olives
3 tablespoons red wine vinegar (I substituted balsamic vinegar)
1 small garlic clove, minced
1 tablespoon chopped fresh parsley
1 teaspoon chopped fresh thyme
My daughter and I have recently started the Jullian Michaels Ripped in 30 series. It is awesome.
We are on week 1 and have enjoyed it so far. The video series is in s step wise process so we do not "overdo it" early and give up like most of us would do. There is a meal plan, online, that is great, however, some of the ingredients are hard to find around my small "po-dunk" town. Anyway, I will journal about our progress. My daughter is really excited about this time together and our dietary changes. Let's hope it continues!!!