Follow Me, Chicadee!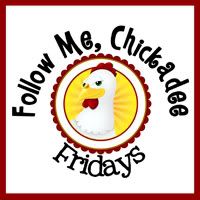 The Life of a Sippy Cup Mom!,
Mannland5
and
The Adventures of Goober Grape and Monkey Man
have teamed up to cohost Follow Me, Chickadee Fridays! Each week, simply stop by at any of these three blogs for a chance to link up and meet new and exciting bloggers out on the interwebz!
Recently, I started playing with my "new" photo organized Aperture that my hubby gave me last Christmas. It is SO Awesome. I am trying to work out some things so pictures to follow later.
Running news:
Yesterday, I was FB about another race.
Picasso 10k/1mile fun run. This is to benefit the Halifax County Arts Council. Kind of cool. Can't wait to see the T's. A local artist is the organizer ( who is an awesome runner). She is also designing the shirts. So. . . Lets add that to my scheduled races. Got to get motivated. Summer has been great, however, very hot. Heat index this weekend was 110. Hate it.
Have a great weekend!!!